Are you building a house? Or have you purchased the house and are working on the interiors now? Whenever you are planning a house, you should always focus on its technology and try to make it smarter. Nowadays, everything is smart, right from your phone to your home. You must be updated with the times or else you will stay back. By making your homes smarter, it means you have the latest audio and video systems, may be a home theater, and work on home automation as well. These can make your lives more convenient and less stressful. We, at JMG Audio Video Inc., can be the right solution for you. We can help you build the smart homes of your dreams. We work in both commercial as well as residential environments. We are a reliable and experienced company which is known for their high-quality products and reasonable prices. So, if you belong to areas like Alpine NJ, Franklin Lakes, Ridgewood NJ, Saddle River, or Tenafly, you can consider us for such smart technology.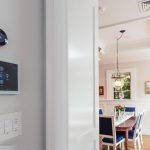 Here, we have put together a few amazing ways in which smart homes can benefit you. Take a look. 
At Par with Contemporary Times

 
You belong to this generation. You have a lifestyle suitable for the contemporary times. Then, there is no point in following the customs and traditions of the past. You should set new rules for yourself. In order to be suitable for a contemporary life, you have to incorporate some technology in your life. Smart homes help you remain at par with the modern way of living. 
Higher Value

 
If you plan to put your house for rent or sell it out after a few years, you will be able to fetch a higher value for the building if it is equipped with smart technology. Smart homes are more comfortable and convenient which requires a price. You will be able to make this money if you are smart about it. 
So, if you are interested in making your homes smarter, then contact us today.