Whole Home Automation and Smart Homes in Alpine, Franklin Lakes, Ridgewood, Saddle River, Tenafly, NJ, and the Surrounding Areas
When there was talk about smart homes many years ago, much of what was available was devices to control a few lights and perhaps a few other things. These days smart homes in Alpine, Franklin Lakes, Ridgewood, Saddle River, Tenafly, NJ, and the surrounding areas have the entire home's lights connected, along with entry doors, blinds, security systems, and more. When you work with JMG Audio Video we can install a whole home automation system that you can easily control through a tablet or your smartphone. This means that you can control your home's settings whether you are sitting in the living room or on vacation a thousand miles away. Contact our team today to learn more about transforming your home into a smart home.
Whole Home Automation Benefits
When you decide to upgrade your home with whole home automation, there are a number of benefits that you will experience that you may not have thought were that important. For example, the ability to manage your home devices all in a single location. For example, you could control all of the lights in your home from your couch, or you can check to see if your alarm system is armed when you are at work or on vacation.
You can easily add a number of different devices as you acquire them, or you will upgrade what you have to new, better-automated options. This provides new opportunities for special settings in your home such as a night mode that turns any and all lights off, shuts any blinds or shades, and makes sure that your doors are locked as well. All of this with a single tap of a button on your smartphone or tablet.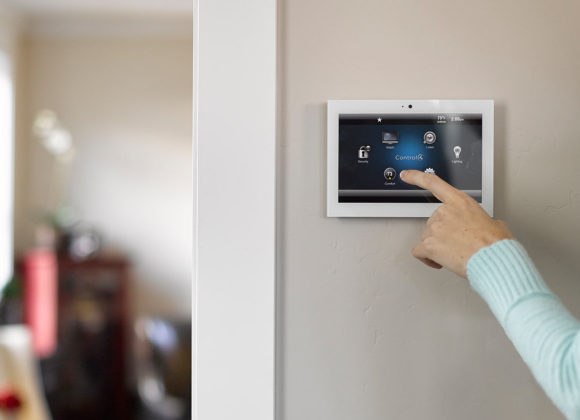 Smart Homes
One nice aspect of smart homes is the ability to adjust schedules on the fly. For example, you may be expecting some family to show up, but then you get a call that they arrived early and are outside your home, which is locked. On your smartphone, you can unlock the door for them, disarm your security system, and adjust the interior temperature with your HVAC system. Now your family can enter your home easily and not have to worry about disarming an alarm or trying to find your thermostat to adjust the temperature.
Smart homes have come a long way and will continue to get better and easier and provide more ways to really make your homework for you in Alpine, Franklin Lakes, Ridgewood, Saddle River, Tenafly, NJ and the surrounding areas. Make the call to JMG Audio Video to have our experienced team talk with you about making your home a smart home.