Home Theaters in Alpine, Franklin Lakes, Ridgewood, Saddle River, Tenafly, and the Surrouding Areas
Watching a movie at a theater is a great experience in Alpine, Franklin Lakes, Ridgewood, Saddle River, Tenafly, and the surrounding areas, except for the fact that you are sharing the space with dozens or more of your new friends. Why not have our team at JMG Audio Video design and install your own home theater? You can get the same feeling of watching your favorite movie or TV show on the big screen without having to share the space. Plus you can have your own snacks and even pause the show when you need to – bathroom break anyone? Today's home theater setups are as good or better than the public movie theaters and they are open whenever you want. Contact our experts today to get started on designing your new home theater.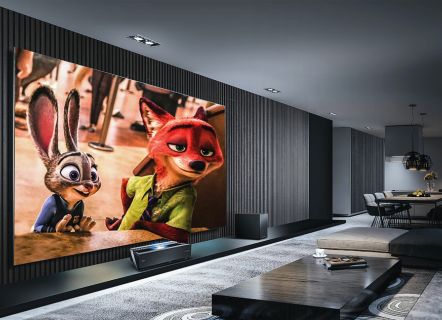 Home Theater Installation
When we do a home theater installation we don't cut corners. Your home theater room is something that will add value to your home, not detract from it. We will provide you with a complete, ready-to-go home theater system utilizing the best speakers, projection equipment, screens, and more. You want to have an experience and not just watch television. You want to feel the thunder that rolls across the room.
With all of the different streaming services now available with all of the content, there has never been a better time to invest in a home theater than now. Nearly any movie that you want to queue up, whether it is a new release or a 30-year-old classic, can be found quickly, and the same is true about nearly any television show, even going back to the days of black and white
Home Theaters: Elevate Your Entertainment with a Personal Cinema Experience
That feeling of anticipation when the lights go down in the movie theater can be replicated in your own home theater. You get to control when the show is played, adjust the sound how you want it, and even take bathroom breaks without missing any of the action or romance. Your home theater is your personal escape that makes watching even regular TV shows an elevated experience. Our years of experience coupled with the best audio and video equipment available equals an unparalleled cinema experience.
When you want to upgrade your home in Alpine, Franklin Lakes, Ridgewood, Saddle River, Tenafly, and the surrounding areas by adding your own home theater, make the right call to JMG Audio Video. We can demonstrate the different equipment available that will make your home theater better than any public movie house. Add value to your home while getting the best in a home theater system when you contact us today.