Best Home Theater Systems for Residents of Alpine NJ, Franklin Lakes, Ridgewood, Saddle River, Tenafly and Surrounding New Jersey Areas
For home theater systems in Ridgewood, Tenafly, and Saddle River, New Jersey, JMG Audio Video the right choice. We offer cutting edge, state-of-the-art home theater systems, and our technicians in the field install them with impeccable precision. In addition to these three cities, we also provide home theater systems for Franklin Lakes and Alpine, New Jersey residents.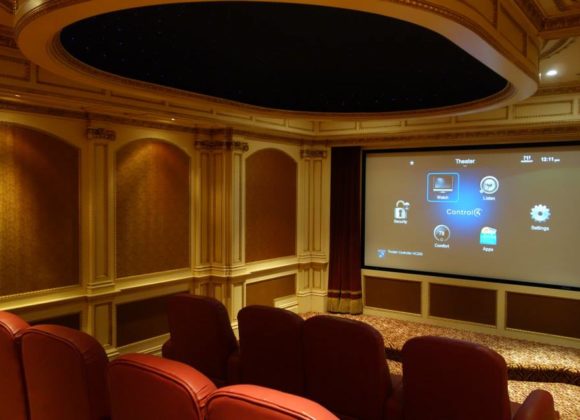 We Turn Dreams Into Reality
Many people would say that a full-blown home theater system would be a dream come true. When you see the houses of the rich and famous, there are always home theater systems, and this can make it seem as though you have to be a multimillionaire to afford one. In reality, nothing could be further from the truth.
Since we do a lot of business with our suppliers, they give us great prices. As a result, we have the ability to pass the savings along to our clients. People that engage us to install home theater systems in Ridgewood, Tenafly, Saddle River, and the other cities in our service area are usually pleasantly surprised when they get quotes from us.
Plus, when you are considering the cost of a home theater system installation, you should look at it as an investment rather than an expense. The resale price of your home will rise when you make this improvement, and this will offset the cost of the home theater system. The price is right, but at the same time, we source the best home theater systems on the market today, so you get fantastic value when you choose our company.
Ongoing Support
There can be a learning curve when you start to use your home theater system, and we fully understand this dynamic. Our technicians will train you thoroughly before they leave your property, and our window of availability does not end there. We offer ongoing technical support, so the answers to your questions will always be just a phone call away.
Contact JMG Audio Video!
If you would like to discuss a potential home theater system installation project with a knowledgeable member of our team, we would be more than glad to help. You can reach one of our Tenafly-Saddle River-Alpine area home theater system consultants at 210-961-7001. There is also a contact form on this website that you can use to send us a message.