Best Home Theater Systems, Control 4 Systems, and Whole Home Automation in Mendham, NJ
Looking for seamless integration of all your consumer electronics for your Mendham home? Look no further than JMG Audio Video. We are proud to be industry leaders in smart homes. By working to connect your home's different systems – lighting, security, temperature controls, and electronics, we provide the ultimate control for homeowners.
Every homeowner is looking for something different in their whole home automation. Some Mendham customers are looking for ultimate security – combining landscaping lights with whole home security systems. Other Mendham customers are interested in the best home theater systems that challenge the top movie theater experience. Another goal of Mendham customers is energy efficiency with temperature controls and automatic window treatments to block temperature extremes. All of these goals require different systems and technology. That is why we first meet with Mendham customers to find out what they are looking for, the budget range for their project, and what we can do for them. Once we have installed your systems, we will make sure you understand how to work them and provide continuing customer service. This consultative approach makes sure your system suits your current demands as well as your needs in the future.
Home Theaters in Mendham, NJ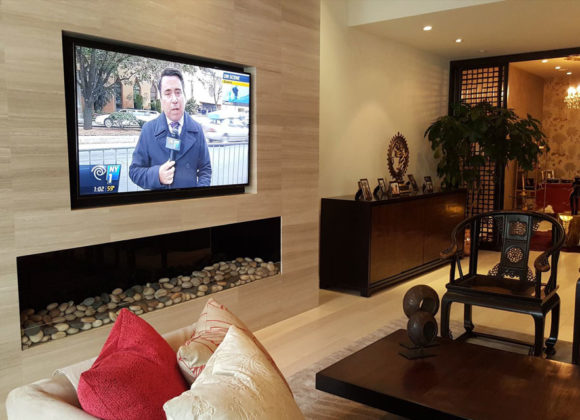 Times are changing and more residents are staying home to enjoy top entertainment. With streaming new releases and high-quality products, home theaters are becoming more popular. Whether you are looking for an enhanced sound system or a fully-dedicated home theater room, we believe our customers deserve the best home theater systems that fit their needs. Here are some of the essential parts of home theaters:
Video output
Receivers and sound system
Electrical system and surge protectors
Connection cables
Display device
All these components come in all different levels of output and value. This is why we go through the consultation process to give customers the best home theater systems for their homes.
Smart Homes, Control 4 Systems in Mendham
Control4 Systems has become one of the top hub systems for smart homes. Award-winning control software and hardware means customers are looking for Control4 Systems by name. At JMG Audio Video, we are proud to be installers of Control4 Systems that bring together consumer electronic products for affordable and easy-to-use digital living. Effortless entertainment and home control at your home simplified.
Whole Home Automation in Mendham, NJ
Mendham is a township locate 30 miles west of New York City and considered part of the New York metropolitan area. With home values averaging $742,780, Mendham homes are the perfect candidates to become smart homes with enhanced security and living. Enjoy security and entertainment at the touch of a button.