Whole Home Automation and Lighting Controls for Residents of Alpine NJ, Franklin Lakes, Ridgewood, Saddle River, Tenafly, and Surrounding Areas
Home Automation
Whether you realize it or not, your home has a number of systems already. The plumbing system, the electrical system, and your heating and cooling system are just a few of these common systems. But there are other systems that the team from JMG Audio Video can install that will transform your house into a top-line movie house, a home that can help you save money when you are away with the push of a button, as well as a house that can supply your radio tunes in any room and provide you with eyes and ears all around your property, even when you aren't at home.
Talk to the experts in home automation, CCTV camera systems, lighting and HVAC control, and a host of other technologies that will make your home work harder and smarter for you. Contact JMG Audio Video to set up a time to meet with our team and learn what they can do for you.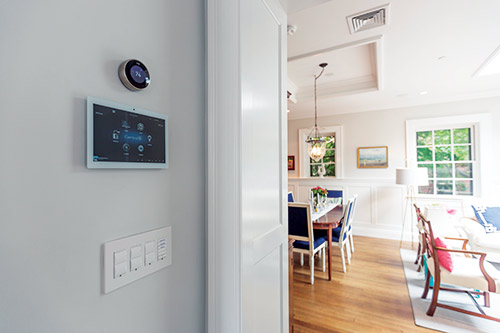 Here at JMG Audio Video, we have designed state-of-the-art home automation systems that allow you to control everything in your home with the touch of a button. Whether you desire to replace multiple remote controllers with a single elegant touch pad, or operate your home systems from any mobile digital device, we will turn your house in a sleek and modern work of art.
With the help of JMG Audio Video, you can program multiple lifestyle scenario settings for your home system. If you are out of your house and realize you forgot to turn off a light, you can simply choose an "Away" setting on your mobile device that will remotely turn off all lights, music, and TVs as well as adjust your HVAC settings as desired. Not only are you being environmentally friendly, but you are also cutting down monthly energy costs for your family.
However, that is not all that JMG Audio Video's home automation system can do. Access your home security camera feed, check for weather conditions, and even adjust the volume on whichever sound systems all for a single control pad. You are truly the master of your own home.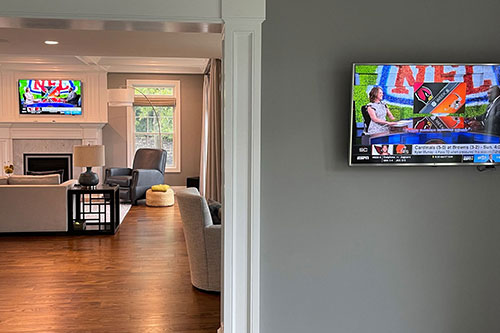 Whole-House Audio and Video
Over the last several years, the demand has grown for centrally located systems that distribute both audio and video to rooms in your home or business. Listen to different music and watch different video sources from one easy-to-use system. We are well-equipped to offer multi-room audio/video designed to deliver crystal-clear audio and high-definition video throughout your home or office at an exceptional value.
Our systems allow our clients to spend more time relaxing and less time hassling with complicated audio/video systems. An easy-to-operate user interface provides one-touch control over the entire system.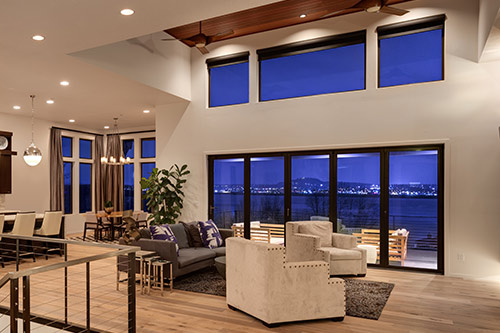 Lighting, Shades, and Energy Control
We offer state-of-the-art lighting control systems specifically for homes and businesses. Lighting control systems provide energy savings and peace of mind by allowing you to control a wide variety of lights using intelligent switch communication. Our advanced lighting control system offers increased security by allowing you to set up time-based schedules.
With motorized shading solutions, you can easily raise the shades to add sunlight or lower them to reduce heat buildup and add instant privacy. Shades can be preset to automatically open and close during a specific time of year, effectively controlling sunlight to prevent harsh U/V rays from damaging expensive furnishings. Or, if you prefer, you can simply push a button to adjust them when you want, achieving the greatest beauty and efficiency in each room at all times.
An energy management system allows you to monitor and control the energy consumption of the air conditioner, lights, electronics, and some large appliances giving you a detailed history as well as an accurate real time analysis so you know exactly what to expect the next time you get the bill in the mail.
Even more than just managing what you are using, you can also monitor the energy that is being created by your solar power, solar thermal, or hydrogen fuel cell. Managing your energy is no longer just trying to use less, but it's also working to become energy independent one day.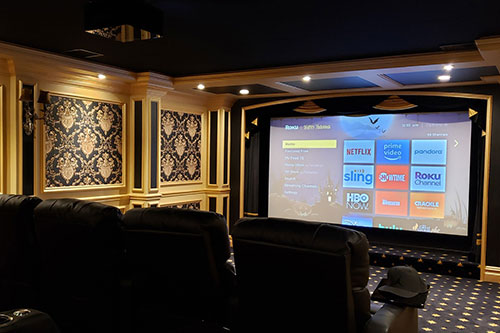 Multimedia / Family Rooms
Experience the thrill of owning a state-of-the-art home theater at an affordable price. Never before has the concept of a home theater been so real and achievable. The home theater products are experiencing price wars, dramatically reducing the overall cost of our custom home theater packages and greatly benefiting our customers.
HDMI, 1080p, 4K, LCD, 5.1, or 7.1. Are these terms you should be familiar with? Not necessarily, but they are still very important to the setup of today's entertainment rooms. That is exactly why we are here to help. Our technicians are knowledgeable and trained in the very latest in audio and video technology and are ready to meet your media room needs.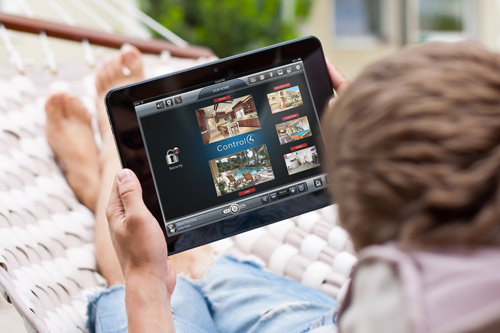 CCTV / IP Cameras
CCTV, or Closed Circuit Television, is a system that allows the owner to both monitor as well as record activity on his or her property.
If you're curious about suspicious activity, or would like the convenience and security of viewing who is at your front door, then a CCTV camera system is what you need.
There are plenty of options when it comes to cameras and DVRs, or Digital Video Recorders. When choosing cameras, it all depends on the application: do you want to see near or far, whether you prefer color or black & white, do you want them to be seen or installed covertly, and if the recording time is day, night, or both. The wide selection of DVRs range from basic 80G hard drives to fully programmable multi-gig networkable drives with DVD rewritable capabilities. Basically, your options are endless with a CCTV camera system.