Best Home Theater Systems, Smart Homes, and Control 4 Systems in Wyckoff, NJ
Whether you are looking to add onto an existing automated home system or are just starting, JMG Audio Video is ready to help you with anything you need. An automated multi-system structure lets you enjoy the best home theater systems and whole home automation at the touch of a button.
Our customer support and service cannot be beaten. Starting with a consultation to find the system that fits your needs to continuing support, we want you to get the system that enhances your lifestyle and Wyckoff home or office. A simple automated system from Control 4 Systems can enhance energy efficiency, create whole-home automation, and turn your home into the smart home you have always wanted. If you want a system with all the bells and whistles, we can do that. On the other hand, if you are looking for a simple, affordable, and extremely user-friendly system, we can do that too.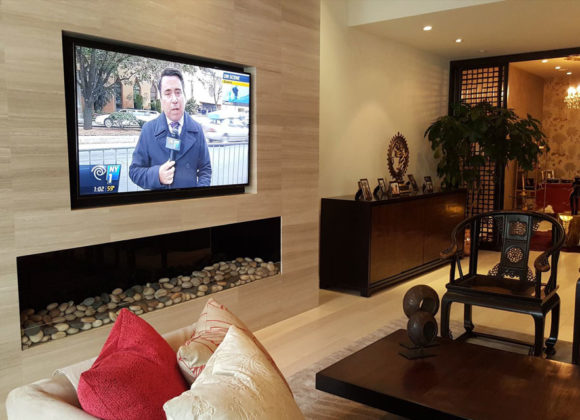 Home Theaters for Wyckoff Residents
Home theaters are gaining popularity more than ever. Staying at home, new releases available for streaming, and more mean you are enjoying the theater experience while staying on your couch. Now let us add the finishing touches to make your Wyckoff home theater system one of the best home theater systems available.
Home theaters used to be expensive and out of reach of many homes. But price wars have reduced the cost, including custom packages, to bring home theaters to be part of the overall package of smart homes.
Whole Home Automation with Control 4 Systems in Wyckoff
In days past, automated systems meant several different remotes or complicated interfaces. But now that smart homes are becoming more common, manufacturers are creating user-friendly whole home automation for all levels of user interaction.
Control4 is one of the top whole-home automation systems for smart homes to bring usability to multiple different systems to work together. Award-winning control software and hardware work together for efficient energy management, security management, and effortless entertainment. Lock your doors, turn off lights, and manage the thermostat temperature with a simple "away" or "goodbye" command. A Control4 system is not only about convenience but also the security of your home and family.
Smart Homes in Wyckoff, NJ
With an average home value of $757,455, Wyckoff has some of the most beautiful and luxurious homes in the area. If you are the lucky homeowner of a Wyckoff home, give yourself the gift of whole-home automation. Close the blinds on the west end of your home in the afternoon, enjoy family movie night with home theaters or make your rec room the teen hangout with an awesome sound system.