Custom Audio Installation for Residents of Alpine, Franklin Lakes, Ridgewood, Saddle River, Tenafly, and Surrounding New Jersey Areas
JMG Audio Video is the leading resource for custom audio installation in Ridgewood, Alpine, and Tenafly, New Jersey. We bring an unrivaled level of experience to the table, and we provide cutting edge audio systems. All of our technicians are highly trained professionals, and they take a lot of pride in the work that they do. In addition to the cities mentioned above, we also provide custom audio installation in Saddle River and Franklin Lakes, New Jersey.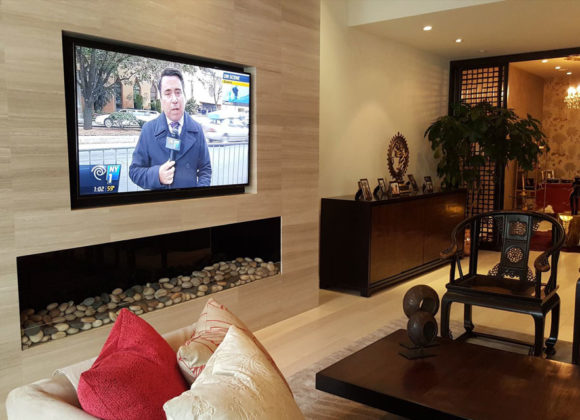 Quality Audio Efficiently Delivered
You spend a lot of time in your home, and it is probably your most significant investment. It is important to enjoy it to the utmost, and a custom audio system can be a real game changer. When you engage us to complete a custom audio installation project in Saddle River, Ridgewood, or another nearby city, music will be at your fingertips at all times, all throughout your home.
Plus, different members of the family can stream their own audio in separate rooms, so there is absolute versatility. The audio systems that we offer are manufactured by industry leaders, and the sound quality is absolutely amazing. Best of all, we have strong relationships with our suppliers. They give us great value, and we pass the savings along to our custom audio installation clients.
Clear Communication & Ongoing Support
Some people in Franklin Lakes, Alpine, and the other cities that we serve are interested in custom audio installation, but they are intimidated by the technology. This is totally understandable, but you can set those concerns aside when you work with our company.
Our team members install the products that we source impeccably, but they don't hand you a set of directions and head out the door as soon as the job is done. They will explain exactly how to utilize your brand-new custom audio system, and all of your questions will be answered thoroughly.
You can rest assured that you will be fully prepared to enjoy your new audio system to the fullest from day one. This being stated, we will always be available to provide ongoing support if you have any questions going forward.
Call or Click Today!
For custom audio installation in Saddle River, Franklin Lakes, Alpine, Tenafly, and Ridgewood, New Jersey, JMG Audio Video is the right choice. If you would like to set the wheels in motion, you can send us a message or give us a call at 201-961-7001.