5 reasons why smart homes are a mandate in 2023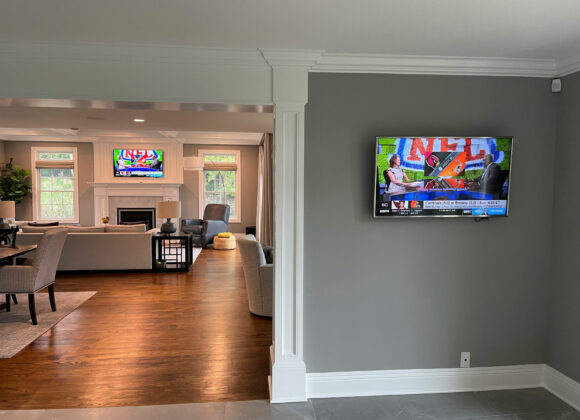 JMG Audio Video provides smart homes in Mendham, Demarest, NJ, Chatham, NJ, Tenafly, Franklin Lakes, Wyckoff. If you are still not sure of getting smart homes, kindly read this blog. 
Convenience and Efficiency: Smart homes offer a higher level of convenience and efficiency by automating various tasks. With smart home devices, you can control lighting, temperature, security systems, and appliances remotely through your smartphone or voice commands. This convenience saves time and effort while making daily tasks more streamlined and efficient.

 
Energy Savings: Smart homes help reduce energy consumption through features like smart thermostats, automated lighting systems, and energy monitoring devices. These technologies allow homeowners to optimize energy usage by adjusting settings based on occupancy or preferences. By efficiently managing energy, smart homes contribute to environmental sustainability and cost savings on utility bills.

 
Enhanced Security: Home security is a growing concern, and smart home technology provides advanced security features. Smart security systems enable real-time monitoring, remote access, and alerts for events such as unauthorized entry, motion detection, or fire alarms. Integration with smart locks and video doorbells further enhances security, allowing homeowners to control access to their homes and monitor visitors remotely.

 
Improved Safety: Smart home devices offer safety benefits by detecting and preventing potential hazards. Smoke detectors, carbon monoxide detectors, and water leak sensors can alert homeowners and emergency services in case of emergencies. Additionally, smart home systems can automate tasks like turning off appliances, closing windows, or adjusting lighting, reducing the risk of accidents or damage.

 
Aging-in-Place and Accessibility: As the population ages, smart home technology becomes increasingly important for enabling older adults to live independently and safely. Smart home devices can assist with daily tasks, monitor health parameters, and provide emergency assistance when needed. With features like voice control and automated routines, smart homes can enhance accessibility for individuals with disabilities, ensuring a more inclusive living environment.

 
These reasons demonstrate why smart homes are considered a mandate in 2023. The combination of convenience, efficiency, energy savings, security, safety, and accessibility make them highly desirable for homeowners looking to enhance their living experience and embrace the benefits of emerging technologies. 
 Please call us without any delay.