5 reasons why home theaters are a must for house upgrades
Here are a few reasons why you should get home theaters in Chatham, NJ, Tenafly, Wyckoff, Millburn, Franklin Lakes, Ridgewood, NJ. JMG Audio Video provides the same in these areas.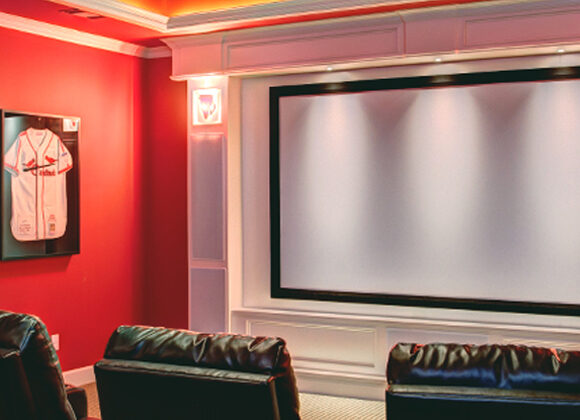 Immersive Entertainment Experience: Home theaters provide a level of immersion and cinematic experience that traditional TVs and sound systems can't match. With a dedicated room, large screen, high-quality surround sound, and comfortable seating, you can recreate the magic of a movie theater in the comfort of your own home. The combination of stunning visuals and powerful audio transports you into the heart of the action, enhancing your enjoyment of movies, TV shows, sports events, and gaming.

 
Convenience and Accessibility: Having a home theater means you don't have to leave your house to enjoy a premium entertainment experience. You can watch the latest movies as soon as they are released, pause and resume at your convenience, and avoid crowded theaters or long queues. It provides a convenient and accessible entertainment option for you, your family, and friends.

 
Customization and Personalization: With a home theater, you have complete control over the design, layout, and equipment. You can customize the room to suit your preferences and create a personalized space that reflects your style. Whether you prefer a classic theater ambiance or a contemporary setup, you can choose the seating, lighting, acoustics, and décor to match your vision.

 
Enhanced Audio and Visual Quality: Home theaters allow you to enjoy high-quality audio and video like never before. Large screens, such as projectors or large flat-panel displays, offer a more immersive visual experience with crisp, vibrant images and true-to-life colors. Additionally, surround sound systems deliver multi-channel audio, filling the room with rich, detailed sound from all directions, bringing movies and music to life.

 
Value Addition to Your Home: A well-designed home theater can significantly increase the value of your home. It adds a luxurious and desirable feature that many potential buyers seek. A home theater is considered a premium upgrade and can differentiate your property from others in the real estate market. Even if you don't plan to sell in the near future, it enhances your overall home experience and can be a great source of enjoyment for you and your family.

 
Overall, a home theater provides a compelling reason to upgrade your home by offering an unparalleled entertainment experience, convenience, customization options, superior audio and video quality, and potential value appreciation. Please call us without any kind of hesitation.