Are you sick and tired of television shows? Do you want something else? You can always watch movies on the laptop but the screen is small and the experience will definitely not be like the movie theater. If you want the movie experience of that of a movie theater, then only a home theater system can help. You must opt for the latest home theater system with all the advanced features and great technology. Having a home theater will not only better the entertainment at home but it will also increase the value of your home and make it more suitable for the modern contemporary homes. We, at JMG Audio Video Inc., can be the right choice for you. We are an experienced and reputed company offering you high-quality home theaters at reasonable prices. With our great features, customer-oriented approach, and years of experience, we have become a preferred choice for home theaters. So, if you belong to areas such as Alpine NJ, Franklin Lakes, Ridgewood NJ, Saddle River, or Tenafly, then you can rely on us.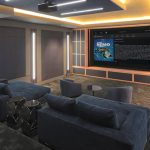 Here, we have put together a few major things to check about your home theaters before buying. Take a look.
You have to check the quality of the pictures and sound whenever you are buying a home theater in order to enjoy the movie theater experience with your home theaters. Make sure there is clarity in the pictures the sound is clear.
You must pick a home theater system which can be installed easily in all types of homes. This will make sure that this home theater will be perfectly fit your home.
So, after checking these major things, if you are interested in our home theaters, contact us today.