Are you thinking of how to upgrade your old house? Every now and then, you have to maintain the house you have been living in quite some years because an old house has several maintenance issues. Sometimes, people also feel the need to change the look and feel of the house. So, they change the upholstery, furniture, lighting options, or add other decorative elements and so on. However, there is something else that you can do lunch, keeping in mind the highly technological times we live in. What you can do is home automation. This is a revolutionary idea, truly transforming the homes into smart entities, and offering us more comfort. We, at JMG Audio and Video, can offer you a wide range of home automation systems whereby you can control all parts of the house the way you want to. We are known for our latest, advanced, and durable products along with our great customer-oriented service. We ensure that you get a smart home at the most reasonable prices ever. So, if you are from areas such as Alpine NJ, Franklin Lakes, Ridgewood NH, Saddle River, or Tenafly, then you must rely on us.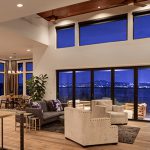 Here, we have put together a few ways in which home automation can help. Take a look.
You should be aware that with home automation, you can get much comfort and convenience. You can be comfortable right from the moment you enter the house by adjusting the climate beforehand. Or you can get rid of darkness before entering the house by already switching on the lights when you are still in the driveway.
Make your home smarter in order to enhance the value of the house. If it is more appealing, then you will get increased returns when you sell the house or put it on rent later.
So, if you think you are also interested in this kind of an upgrade, contact us today.