Here are 5 Benefits of Automatic Blinds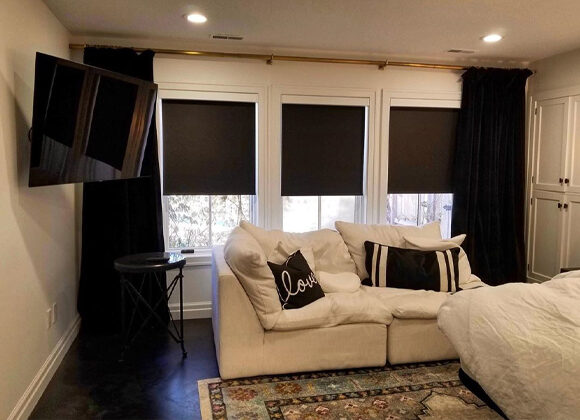 Automatic blinds, also known as motorized or smart blinds, offer numerous benefits for both residential and commercial spaces. JMG Audio Video provides automatic blinds in Demarest, NJ, Tenafly, Ridgewood, NJ, Franklin Lakes, Alpine, NJ, Saddle River.
Here are five advantages of using automatic blinds:
Convenience: One of the primary benefits of automatic blinds is the convenience they provide. With motorized blinds, you can easily control the opening and closing of your blinds with just a push of a button or through voice commands if they are integrated with a smart home system. This eliminates the need to manually adjust each blind, especially if you have multiple windows or hard-to-reach areas.
Energy efficiency: Automatic blinds can contribute to energy efficiency by effectively managing natural light and heat entering a room. You can program the blinds to open or close based on the time of day or sunlight intensity. By automatically adjusting the blinds to block direct sunlight during hot summer days or allowing natural light to enter during colder months, you can reduce your reliance on artificial lighting and heating/cooling systems. This can lead to energy savings and lower utility bills.
Privacy and security: Motorized blinds allow you to maintain privacy at any time. You can effortlessly close the blinds completely to prevent outsiders from peering into your space. Additionally, if you're away from home for an extended period, you can program the blinds to open and close at specific times, giving the appearance that someone is present and enhancing security by deterring potential intruders.
Protection of furnishings: Sunlight can cause damage to furniture, artwork, and other interior elements by fading or discoloring them over time. Automatic blinds enable you to easily control the amount of sunlight that enters your space, protecting your furnishings from harmful UV rays. By programming the blinds to adjust based on the time of day or sunlight intensity, you can ensure consistent protection for your valuable belongings.
Accessibility and safety: Motorized blinds are particularly beneficial for individuals with mobility challenges or disabilities. With automated control options, such as remote controls or voice commands, those who may have difficulty reaching or operating manual blinds can easily adjust the blinds to their desired positions. Moreover, automatic blinds eliminate the risk of entanglement from cords, making them safer, especially for households with children or pets.
Overall, automatic blinds offer convenience, energy efficiency, privacy, protection, and accessibility benefits, making them a desirable addition to any space. For further information, please call us.