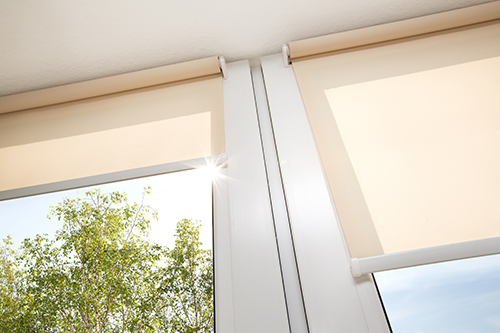 Thanks to modern technology, many Englewood Cliffs, NJ, residents are looking for ways to incorporate automation into their residences for comfort and convenience. Automatic blinds are a popular feature that makes it safer and easier to control how much natural light enters a room. You could even use motorized blinds remotely in case you accidentally leave them open when you're not home. 
At JMG Audio Video, we know how important it can be to have a fully functional automated system for any Englewood Cliffs home. We're happy to offer automatic blind installation to make your residence tech-savvier, safer, and more energy efficient. 
Automatic and Motorized Blinds in Englewood Cliffs, NJ
The purpose of technological advancements in residential properties is to make them safer and more convenient. Motorized blinds function without cords or loops, allowing you to control how much sunlight enters your Englewood Cliffs, NJ, home without worrying about posing risks to children and pets who could get caught in window blind cords.
Automatic blinds also protect your home's interior surfaces and furniture from fading in the sun's ultraviolet rays. Even if you're not home, you can control your window coverings remotely to preserve the integrity of your belongings.
Automatic Blind Installation in Englewood Cliffs, NJ
With JMG Audio Video, you can choose to install automatic blinds in Englewood Cliffs as a standalone feature or as part of a whole-home automation system. Our technicians can install motorized lifts like pleated shades, Roman shades, or natural shades. We also install motorized tilt systems like wood and aluminum blinds that use slats to regulate indoor light. 
If you want the best of the best in automatic electric window coverings, consider Hunter Douglas shades from JMG Audio Video. Hunter Douglas products offer superior energy efficiency for privacy and lighting control using stunning, high-quality fabrics.
Englewood Cliffs, NJ, is a Bergen County borough that's home to many North American headquarters of worldwide companies, like CNBC, LG Corp, Ferrari, and Unilever. Despite having a population of under 6,000 people, Englewood Cliffs is a wonderful place to live, thanks to its rural charm and abundance of parks, restaurants, and coffee shops. The town's proximity to major corporations and New York City also makes it a great place for business opportunities. 
Contact JMG Audio Video today to request a consultation for automatic blinds in Englewood Cliffs, NJ. 
---