Want a smarter home? Seeking the best of the best in motorized and electric blinds? We help homeowners install Hunter Douglas shades in Wyckoff, NJ, and the surrounding areas. If you are looking for improved privacy, integration with home lighting, or simply more convenience in your day-to-day life, Hunter Douglas shades may be the perfect solution.
Not only do motorized blinds add convenience, but they may also increase your Wyckoff home's value. Control your motorized blinds remotely with your smartphone or other smart devices. Set up automation by the time of day or in coordination with other pre-defined tasks. Smart motorized blinds are also ideal for large and hard-to-reach windows. With all of those features (and more) it's not hard to see how they can help improve your home's value.
If you want a simple and surprisingly affordable way to make your home smarter, electric blinds by Hunter Douglas may be the right solution for your home in Wyckoff, NJ!
Electric Blinds in Wyckoff, NJ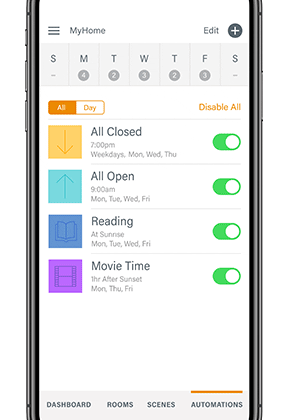 If you live in Wyckoff, NJ, you know the weather brings both warm, humid summers and cold, snowy winters. Automatic blinds can help keep your home comfortable all year round. With Hunter Douglas shades, you can combat the sun's glare and even reduce your energy use throughout the seasons. Here are some of the top benefits to installing electric blinds:
Electric blinds and motorized shades are convenient and increase energy efficiency
Improve the value of your home
Increased safety for children and pets since the blinds are cordless
Convenient options such as voice control, app control, and more
Home automation is the way of the future. Motorized shades in Wyckoff can increase your home's comfort and bring you in to the modern era! Partner your electric blinds with automated lighting, audio, video, temperature controls, and more for a complete smart home experience.
Hunter Douglas Shades in Wyckoff, New Jersey
If you want the best motorized blinds available on the market, look no further than Hunter Douglas shades. Our smart home design and installation experts can help you through every step on your journey to home automation. We will help you find the right blind options from Hunter Douglas that are customized and tailored to your needs.
Wyckoff, NJ, is only about 28 miles south of New York and closest to Oakland, NJ, Ridgewood, NJ, and Paramus, NJ. A township in Begen County, Wyckoff is an affluent community with a population just over 16,000 as of 2020. While there are many theories for how this town received its name, there is no clear historical evidence for the name. It is most commonly accepted that it came from the Lenape word wickoff, meaning "high ground", or wickok, meaning water. Wyckoff has also earned the nickname "the Garden Town in the Garden State."
JMG Audio Video Inc. is proud to serve this community with the highest quality motorized blinds. Contact us today to discover why we're the leading provider of automatic blinds in the Wyckoff, NJ, area.