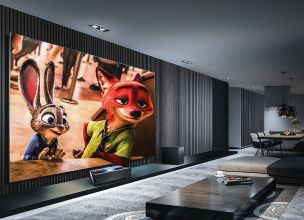 Anyone looking to enhance their interiors in Englewood, NJ, should consider installing home theaters. Cinema rooms offer a bit of luxury and allow people to immerse themselves in the movies, games, and sporting events they love. 
In Englewood Cliffs, NJ, homeowners turn to JMG Audio Video for the best home theater systems. Our company specializes in home automation and technology with almost a decade of experience in the industry. Our team consists of knowledgeable technicians with ample experience working with the best brands to provide seamless technological integrations to homes throughout the area.
Best Home Theater Systems for Englewood Cliffs, NJ
Englewood Cliff's best home theater systems from JMG Audio Video go beyond entertainment systems you could put together yourself. Instead of relying on basic DVD players and sound bars, our experienced technicians use state-of-the-art equipment like top-tier film screens from Dragonfly and Paradigm speakers with powerful acoustics. 
Lots of things can go wrong when someone attempts to install a home theater system without the knowledge, experience, and equipment necessary to do it correctly. That's why you should work with the professionals at JMG Audio Video. We go above and beyond to ensure the perfect installation of the best products to create custom cinematic experiences from the comfort of your home.
Home Theater and Custom Audio Installation in Englewood Cliffs, New Jersey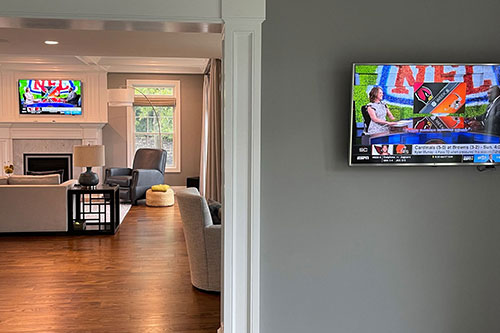 Successfully installing a home theater in Englewood Cliffs takes a lot of planning and details. You must consider everything, from the sounds of your HVAC system and how it could affect the theater's audio to the room's electrical connections and ability to accommodate powerful equipment. 
Still, you can count on JMG Audio Video to strategically plan your custom audio installation or home theater service to cultivate the best audio and visual experience. We will also train you to use your new theater and provide ongoing support for technical issues. 
Since becoming a borough of Bergen County, NJ, in 1895, Englewood Cliffs has continued to thrive as a modern suburban area. It has a hometown feel, perfect for raising families, and plenty of business opportunities for ambitious workers. Thanks to the town's low taxes, space, and modern facilities, many developers are replacing older homes and businesses with newer ones without detracting from Englewood Cliffs' inherent charm. 
Contact JMG Audio Video today for the best home theaters and audio installation services in Englewood Cliffs, NJ.
---