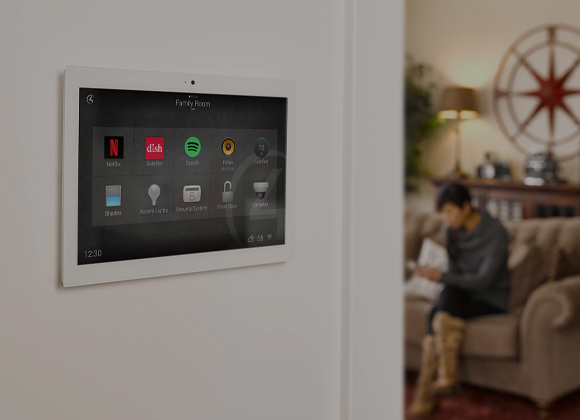 Many residents of Englewood Cliffs, NJ, strive to stay on the cutting edge of smart home, home technology, and whole home automation services. Not only can the advanced technology and services from JMG Audio Video transform any home into a place of optimal convenience and comfort, but our home automation services can also maximize a residence's security and safety.
At JMG Audio Video, we proudly offer whole home automation solutions in Englewood Cliffs. As industry leaders with almost a decade of experience, we deliver seamless integration of many aspects of home technology and complex systems.
Lighting Controls, Automated Blinds, and Home Technology in Englewood Cliffs, NJ
You don't have to be a millionaire to enjoy the simple luxuries that come with whole home automation in Englewood Cliffs, NJ. Our team can customize your systems to match your home's needs, whether it involves installing smart technology for climate control or customizing a comprehensive entertainment system. 
Our professional home automation services usually include lighting controls to create the perfect ambiance in every room. Automated lighting can also increase a home's energy efficiency because you can turn lights off remotely when no one is home. Automated blinds also increase energy efficiency while eliminating safety hazards like looped cords.
Control 4 Systems, Crestron Systems, and More for Englewood Cliffs, NJ Homes
As a top installer of Control 4 systems, JMG Audio Video can fit your Englewood Cliffs house with a centralized operating system to remotely control whatever you choose to connect to it. For instance, you can operate your door locks or monitor your home's surveillance cameras using your smartphone instead of manually adjusting everything.
Crestron systems are another specialty of ours. Like Control 4 systems, Crestron systems offer remote access to lighting, HVAC, audio, visual, and home security systems, as well as small appliances like coffee makers. The difference is that Crestron also gives you the option to operate your systems using voice commands while inside your property.
Englewood Cliffs, NJ, became a borough of Bergen County in 1895 after separating from Englewood Township. The total area of the borough is about 3.30 square miles, yet it's one of the top most expensive zip codes in the United States. With less than 6,000 people, Englewood Cliffs has a diverse population, is home to several headquarters of major corporations, and maintains a charming rural appeal.
For the best whole home automation services in Englewood Cliffs, NJ, look no further than JMG Audio Video. Contact us for an appointment today.
---