If you think that automation has gone as far as it can, you obviously haven't been introduced to automatic blinds. As part of the expansion of home automation in Summit, NJ, automatic blinds are the latest parts of your home that can be added to home automation systems by your friendly experts at JMG Audio Video.
Not only can you open and close your electric blinds from anywhere in your home, but you can also program them to open and close at specific times of the day. Contact us today to learn more about adding automatic blinds to your home.
Benefits of Adding Automatic Blinds in Summit
In the "old days" of just a few years ago, when you wanted to open your blinds or shades you would have to go from room to room and manually open them. Today, you can do the same thing from your central tablet or smartphone anywhere in the home, or even program them all to open at a specified time so that you never have to worry about handling that task again.
While this seems like a more trivial thing, the truth is that the more tasks you can automate in your day the more time you will have to pursue other tasks that are higher level. It could be learning an instrument, reading more books, or just spending time with your family without having to be interrupted as much. And it gets even better when you pair it with a smart thermostat.
You can have your automatic blinds tied to a monitoring app where if the home gets too warm or cool during the day, the blinds or shades can automatically raise or lower to help adjust the interior temperature without having to spin up your HVAC system. This saves you energy and money, making the investment in automatic blinds a no-brainer.
Adding Automatic Blinds in Summit, NJ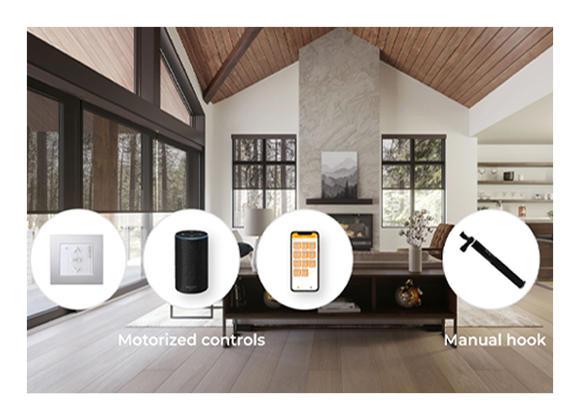 Another factor when homeowners in Summit, NJ are considering adding motorized blinds is the security factor. It is possible that if your outdoor security camera catches movement at an unusual time that it could automatically trigger your blinds or shades to close to prevent someone from looking into your windows. We can provide you with a full list of possible automation experiences when you speak with the team at JMG Audio Video. Contact us today to learn even more.
Originally incorporated as Summit Township by an act of the New Jersey Legislature on March 23, 1869, from portions of New Providence Township (now Berkeley Heights) and Springfield Township, Summit was reincorporated as a city on March 8, 1899. Silk weaving, which had thrived as an industry in the late 19th century, declined in the early decades of the 20th. In 1974 there was a lawsuit to split "East Summit" off as its own municipality.
---